Bridal Hair and Beauty Salon in DC Metro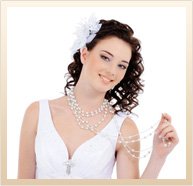 Soon-to-be brides can rest easy knowing that beauty services are available at their fingertips. Just give Moses a call and he will schedule you an in-studio appointment or he and his crew will come to wherever you are. You can receive hair styles and makeup for yourself, your maid of honor, your bridesmaids, flower girl and any other family member that will be attending. Look gorgeous for your special day, while sharing the love of beauty with your favorite gals.


Moses can provide you with various types of bridal hairstyles, including bridal up-dos, buns, layered cuts, dyes, highlights and haircuts. Or if you would like to wear your hair long, consider getting a beautiful ponytail with bridal hairpins or wear it loose with gorgeous lowlights. Your options are virtuously endless when it comes to Moses and his bridal hair stylists.
Bridal Hair and Wedding Updos Bethesda, MD

At his wedding hair salon, or your place if you choose to use him as a traveling hair stylist, you can receive a new look with the bridal makeup services that are offered. This features eye shadows, eyeliner, lip liner, lipstick, gloss, blush, foundation and powder. If you're looking for a celebrity look, Moses and his bridal hair and makeup crew can achieve it for you.
Every woman wants to look her best on her wedding day, so don't hesitate to give Moses a call. He is a top-of-the-line artist for bridal hair designs and makeup. Contact Moses today to schedule your appointment and get the wedding party hair style and makeup of your dreams!
Click Here to see some of business resources!